Molderm Glow & Glow+
A ground-breaking anti-ageing program
MOLDERM® GLOW and MOLDERM® GLOW+ are each part of Molderm Aesthetics' pioneering anti-aging program.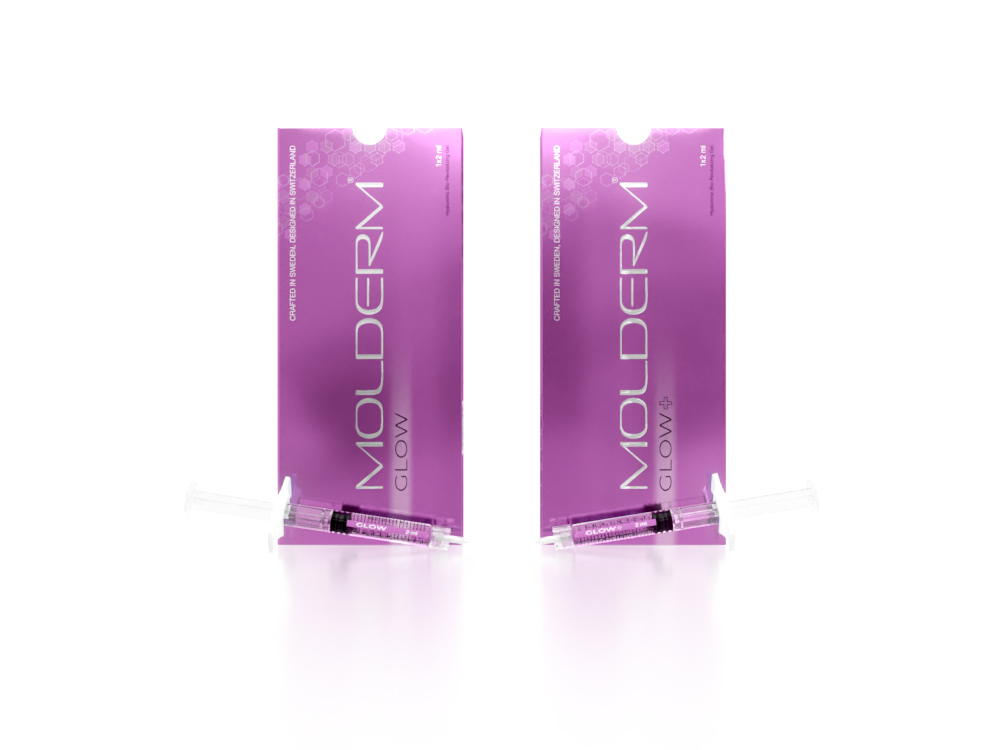 MOLDERM® GLOW is a non-cross-linked gel designed to restore and repair skin's lost elasticity and firmness. MOLDERM® GLOW recreates the skin's original glow and vitality.
Its moisturizing properties make it exemplary for treating dry skin and prevents and reduces the formation of wrinkles and fine lines.
MOLDERM® GLOW+ is designed to stimulate the body's own production of collagen and elastin through direct interaction with fibroblasts in the skin.
MOLDERM® GLOW spans, thanks to Fine-Tuning Technology™, an unbroken spectrum through low, high and ultra-high molecular weight. This means that the anti-aging process begins immediately in all layers of the skin and is not divided into different stimulation phases with varying results.
MOLDERM® GLOW+ is a completely new formula of non-crosslinked hyaluronic acid in the spectrum between low, high and ultra high molecular weight. It is designed for a more long-term, intensive and profound effect of biostimulation. Patented Fine-Tuning Technology™ enables focus to be placed on the molecular sizes that, via receptors, best stimulate the cells that are directly linked to the production of the human's various types of collagen and elastin as well as various proteoglycans. Overall, this means a strong reduction of the human aging process of the skin.
The next generation of beauty science
Each Molderm® product has its own unique formula based on our patented Fine-Tuning Technology™.
This technology provides excellent properties such as elasticity, viscosity, cohesion and stretchability. Based on collected data and research since the 1980s, when the aesthetic injectable industry started, we have created a filler for the future.
Clinically proven safety and efficacy profile. CE-marked, GMP-certified and ISO-certified laboratory, product and manufacturing facility. Together with an international PMS (Post-market study) we welcome the next generation of beauty science, Molderm®.
With Molderm® you get natural, long-lasting results and correct signs of aging. We learn from the past how to create a better future.
Read more about Molderm and its revolutionary technology at www.molderm.com
Do you want to order Molderm?
Molderm is only sold to selected clinics in Europe. In order to order Molderm, a meeting must be booked where information about the product is reviewed as well as information about Molderm's unique 360 concept to strengthen your business and the entire aesthetic industry.
Please click the "contact me" button on one of the products and fill in the form and we will get back to you promptly. Alternatively, contact Mareli Medical's customer service at info@marelimedical.com or +46(0)21-244 00.
Read more about Molderm at molderm.com
Showing the single result
Showing the single result